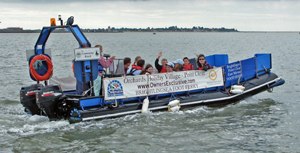 I waited round at brightlingsea for an hour or more, after two bad experiences with motorists coming into town; it didn't take long. A couple of hours in Essex, and things get back to normal pretty quickly.
The wait was worth it though. I hadn't realised that I needed to make a phonecall before the ferry would turn up, but when I made the call it just rang. Then the ferry arrived. It already had customers. I asked about going to Mersea and was asked to wait. Then some people arrived to go to ------ which meant my trip was viable. The woman was nice, amiable, and we chatted. The ferry is new and subsidised; the price was lower than previous ferries, even though journey was longer, and view was better.
Some Mersea Island Links
http://www.mersea-island.com/news-articles-detail.cfm?articleID=23
Facebook: Mersea Island Notes
Facebook page
Mersea Museum
a walk around Mersea Island
Leaving Mersea Island:

I was resolved to cycle all the way back into London, hopefully reaching Tilbury before the ferry stopped running around 7 pm. It didn;t quite work that way. The map I had, very useful for cycling in the sticks, utterly useless for finding your way around town. As I know Essex like the back of someone else's arse - someone I've never met - I ended up going from unintended destination to unintended destination, eventually jut giving up and getting on a train instead. A train that took me into Tower Hill, leaving me with a painful ride/walk (all of me was aching and expecting to be warm, fed and resting up by now) to London Bridge for train back to Bexleyheath and another, but final, painful walk/ ride.